Digital signage: interactive advertising is a conversation with the customer
Ideally, advertising should be like the beginning of an interesting conversation," argued the eccentric father of interactive advertising, Howard Gossage, in the 1960s. This man was the founder, rebel and innovator of advertising and was able to spot trends in communication up to half a century ahead.
Today, interactive advertising is skyrocketing and is a sought-after tool for small and medium-sized businesses to communicate with their customers.
Simply put: it is digital advertising running on a network of multimedia digital screens, centrally managed and controlled in the user interface, and its content can be individually targeted according to the target group, making it highly addressable.
The formats today are almost limitless: from interactive catalogues, which customers browse through while in shopping centres, brand presentations in the form of visuals or videos, to information offers with active content, which replace the informer in shopping or business centres, hospitals or municipalities.
The icing on the cake are the endless possibilities of creative marketing, which are especially appreciated today by brand marketers. What do we mean by this?
Creative marketing or marketing of creativity?
It's a nice game with the customer that is a win-win for everyone. Imagine a wheel of fortune live: you stand in the front of an interactive screen, spin the wheel virtually with a flick of your hand and win, for example, 20% off products at your favourite perfume shop. A QR code to scan is displayed, take to the operator's website and redeem the discount. You've earned the discount and the landlord screens the potential client. It's a marketer's dream: the game will very quickly not only generate interest in the brand, but allow you to straight up get the most valuable thing there is in marketing, and that's leads.
This kind of playful marketing has a strong affinity and great reach due to its interactivity and creativity.
Moreover, such interactive areas placed, for example, in a shopping centre will keep shoppers in the centre longer with the probability of increased shopping activity. 
The right information in the right place: interactive advertising is affinity advertising.
According to a survey conducted by MNForce and Datamar (Sept. 21, Czech Republic, Slovakia), today's shopping malls are places where people look for entertainment, culture, relaxation and often meet friends, because everything is under one roof. Experientialism is thus becoming a key role of shopping centres.
The potential for a brand experience is increasing, as shopping is no longer just about visiting a store. It's about a comprehensive brand experience through both, online and offline platforms, which is often the basis for a customer's online decision and subsequent purchase in a brick-and-mortar store.
The right information in the right place: interactive advertising is affinity advertising.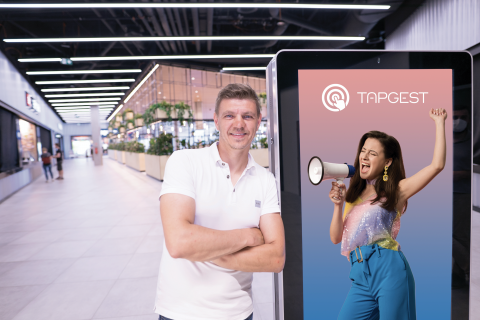 7 reasons for digital signage from TapGest:
TapGest has been on the market for 4 years, but that has been enough time for the company to expand into three countries. It has a network of state-of-the-art digital facilities in the Czech Republic, Slovakia and Bosnia and Herzegovina.
What makes TapGest special?
interactivity: the screens are interactive: they are controlled by simple gestures or any movement that is programmed as the key to change the action on the screen
self-service platform: proprietary software developed and continuously improved to ensure that the user interface provides the best possible experience for self-service devices
an app with a mobile version that, even on a small display, provides all functions without limitations while connecting to the account at any time
publishing, managing and managing content instantly from a desktop or smartphone
infinitely creative marketing that allows for an exciting game with customers: virtual and augmented reality open up countless playful possibilities to engage the target group
Flexibility: TapGest screens have a wide range of uses: they browse store offers, showcase brands and stores, display digital maps, weather or timetables, play with mall shoppers and collect contact emails for the sponsor's marketing purposes
Digital signage is a form of interactive communication with potential customers. In the form of state-of-the-art screens and in the most frequented places where they are looking for information or entertainment.
It can be an information desk at a train station, hospital, bank, local office or an interactive digital entertainment area in a shopping mall to help you acquire a new customer in a playful way.
Control in the interface is simple and solutions are tailor-made.
TapGest provides hardware rental, custom software and turnkey solution design.