Recent studies from August 2020 by OAAA Nielsen show that digital out-of-home (DOOH) media show a high degree of engagement and are a strong trigger in the customer's purchasing process.
In fact, the survey confirmed that customers who intercept a message through DOOH are more likely to visit a point of sale and even up to 80% of them make a purchase.

Two new Nielsen DOOH studies in the US examined the behavior of customers who regularly spent time traveling in the leading markets and thus their reactions to digital OOH advertising formats including digital boards, billboards, citylights, OOH at airports, public transport and transit points, including railways , subway, and taxi.
Almost two thirds of the DOOH target group were involved in the measurement by reacting with at least one medium. These promotions included: visiting an advertiser's website, visiting a store or promotion site, viewing a social media or blog post, and more. The survey also found that DOOH reached out to more than half of the survey's target group for action on their mobile devices.
The results of the study emphasize the importance of DOOH in building brand value. Today, in a time of rapidly changing DOOH market, it not only significantly builds brand awareness and consumer engagement, but also offers flexibility and immediacy that is even more valuable to brands in today's environment. Like all forms of OOH, customers notice DOOH, get involved, and end up responding with a purchase.
OOH campaigns operate 24/7, are still present, while DOOH provides another added value of communication and thus an opportunity. The digital platform allows brands to quickly adapt to the ability to exchange visuals or videos and special messages, which works as an optimization of creative messages for the target audience based on various triggers.
A few numbers that confirm the rightful place of OOH and DOOH in the media mix: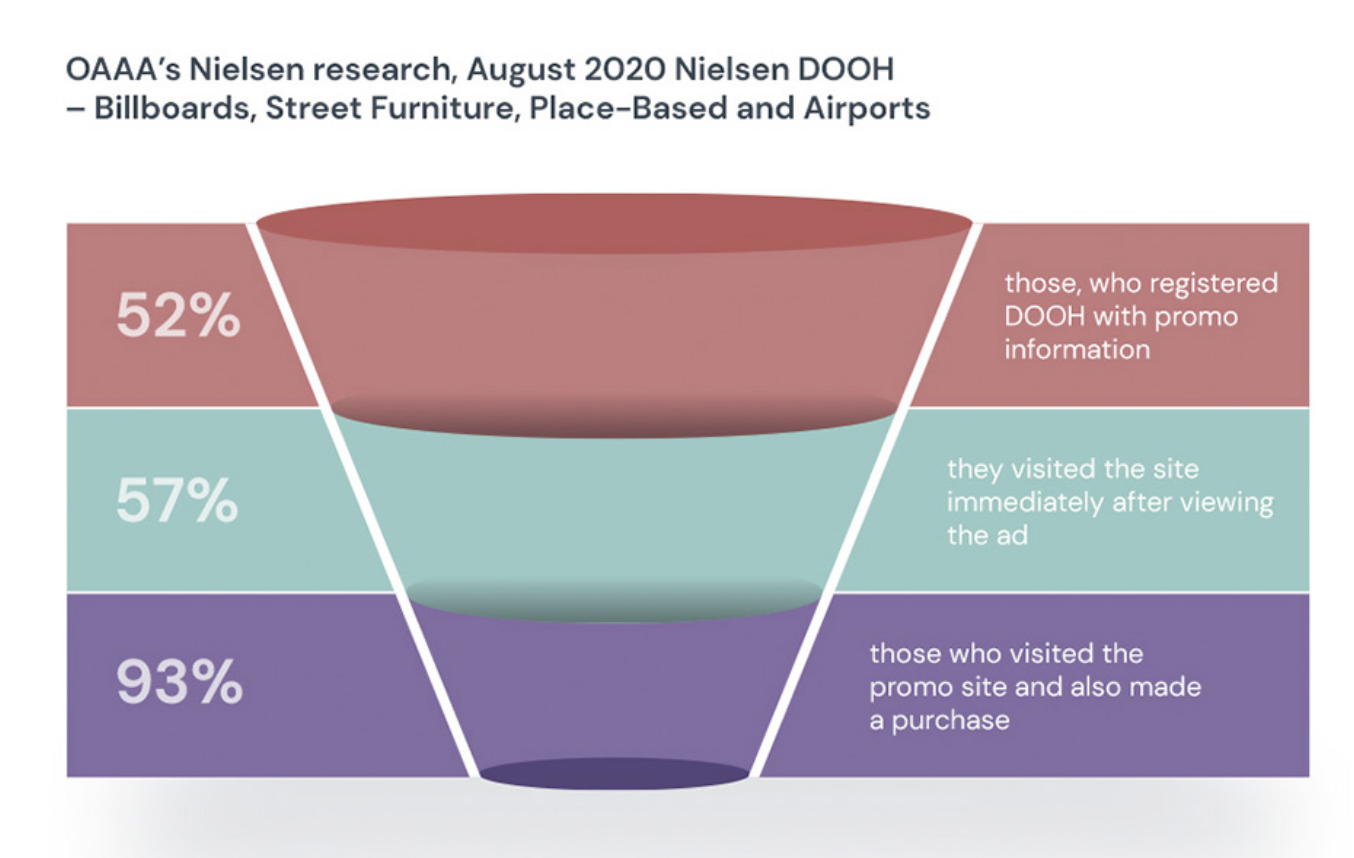 Among consumers who notice digital billboards
52% registered DOOH with brand promotion information
57% of them visited the promo site immediately after viewing the ad
93% of people who visited the promo place also made a purchase
After the target group registered an advertisement for DOOH, 52% of them engaged on their smartphones.
The results of the survey show the following reactions of the target group to DOOF (digital street furniture, note: public transport panels, urban panels / street displays, metro panels, bike holders …):
51% of them registered this medium
65% visited the promotion site
92% of them made a purchase
62% of the target group with smartphones participated in the promoted events
Among consumers who register digital advertising on railways / in the metro / on the train
more than 50% will notice the ad itself
48% of them visited the promo site immediately after viewing the ad
more than 80% of people who visited the promo site also made a purchase
approximately 60% of the target group with smartphones participated in the promotional events
Cources: 
OAAA's Nielsen research, August 2020 Nielsen DOOH – Billboards, Street Furniture, Place-Based and Airports
OAAA's Nielsen research, August 2020 Nielsen DOOH – Transit